I remember a knock-knock joke from when I was a kid that goes like:
Knock-knock. Who's there?
Orange. Orange who?
Knock-knock. Who's there?
Orange. Orange who?
Knock-knock. Who's there?
Banana. Orange you glad I didn't say orange again?
Totally inane. But, I love orange - the color, not the fruit - so I guess that's why it has stuck with me. As much as I love the color, I do think I'm rather subtle about my use, for a lack of a better word, of it. I have a few things in the house that have orange accents, like a small painting of a pumpkin and a framed photograph of the poppies posted above (proud to say I took that picture myself). I also have a really cool long, rectangular, block candle on my kitchen island that is orange (darned if I could find a picture of it on Google Images - I thought everything was on the internet?!) that nicely accents the black and green marble countertops. Anyway, after Pinning (have you checked out Pinterest.com yet? Be warned, it's a time killer!) a couple of orange eye-catchers, I decided to add them here. They make me happy. Here's a few orange bits of joy:
I just bought these for myself and already have received compliments on them at the gym. They are more vibrant in person. I think they sorta glow!
I got these in the Spring from Kate Spade. I didn't wear them nearly enough (the orange ones, obviously!).
I found this ring on the Sundance Catalog site. I so wanted to add it to my Christmas list because it is on sale, but sadly, they don't have my size. Still makes me happy to look at though.
And, I found this fun purse on Etsy.com. The seller is Teddy out of Thailand, if you are interested (gotta give Teddy credit, right?!).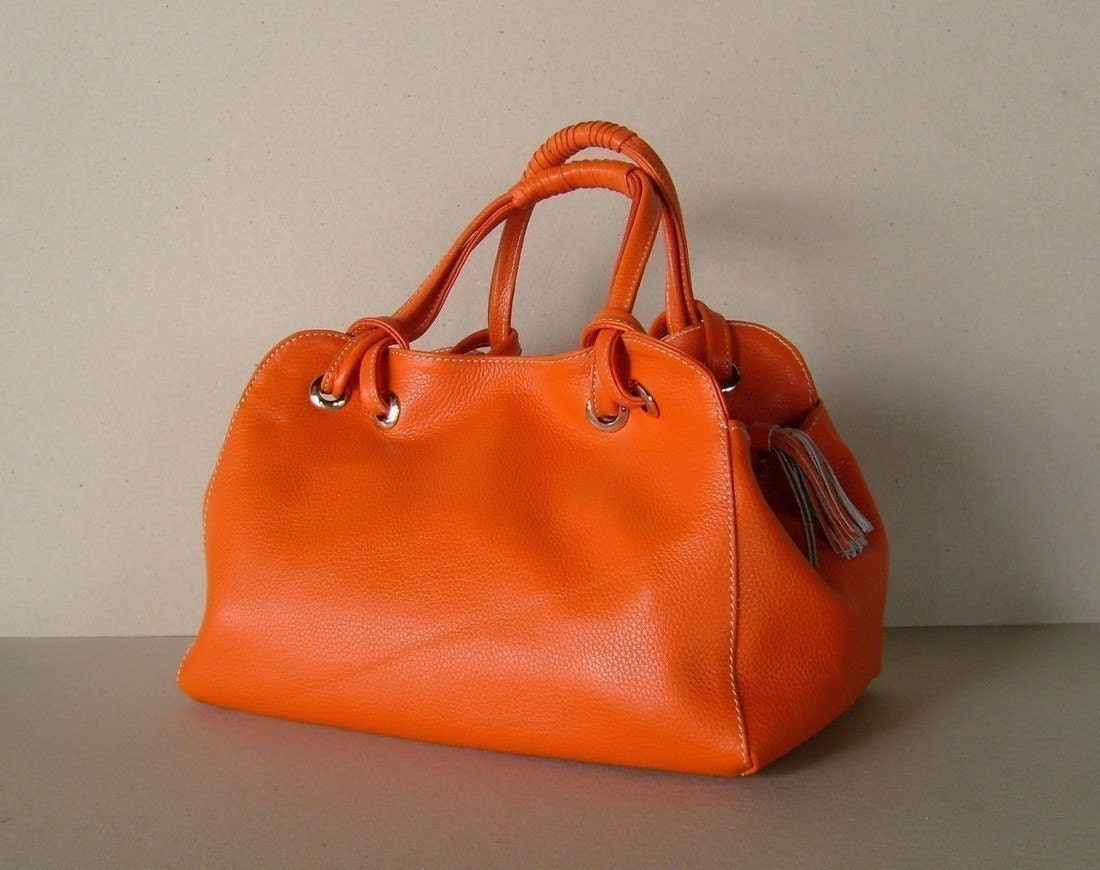 I think these Tory Burch flats are pretty cool. Might have to save my pennies for a Spring purchase . . . .
And, my dream purse is anything by Hermes in their signature orange. I mean, even their packaging is a gorgeous shade of orange!
Clearly, I'm a fan of orange. I know I posted about it in October in regards to Halloween decorating. Guess I must be missing it a little now that the house is decked out for Christmas in reds and greens! I might just make this a regular feature - maybe a little monthly pick-me-up. Glad that just a bit of color really does brighten up my day.